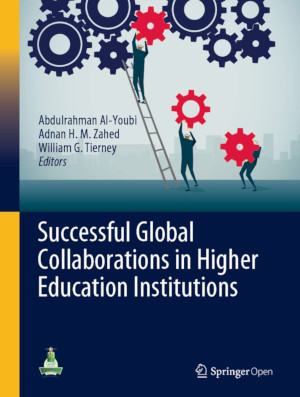 Book Description
This book written by international experts in the field of educational innovation is a guide for universities to become world-class universities. It contributes to the current international intellectual debate on the future of higher education. It also tells the story of King Abdulaziz University in Jeddah (Saudi Arabia) and its effort to become a world-class university. The book discusses excellence in different aspects such as education, research, community services, strategic planning, knowledge economy and international cooperation. You can download Successful Global Collaborations in Higher Education Institutions ebook for free in PDF format (2.7 MB).
Table of Contents
Part I
Implementation of Global Partnerships
Chapter 1
King Abdulaziz University's Approach to International Collaboration
3
Chapter 2
Creating an Organizational Climate for Global Partnerships: Challenges and Opportunities
13
Chapter 3
Global Citizens for the Twenty-First Century: The Role of International Partnerships in University Education
23
Chapter 4
International Cooperation in East Asian Higher Education
31
Part II
International Collaboration and Knowledge Transfer
Chapter 5
International Collaboration as a Catalyst for Change: The Case of Nanyang Technological University, Singapore 2003-2017
43
Chapter 6
Making Ideas Work for Society: University Cooperation in Knowledge Transfer
51
Chapter 7
Student Exchange: The First Step Toward International Collaboration
63
Part III
Challenges and Sustainability of Global Partnerships
Chapter 8
The Tricky Terrain of Global University Partnerships
75
Chapter 9
Long-Term Sustainability in Global Higher Education Partnerships
87
Book Details
Publisher
Springer
Published
2020
Pages
93
Edition
1
Language
English
ISBN13
9783030255244
ISBN10
3030255247
eISBN13
9783030255251
eISBN10
3030255255
PDF size
2.7 MB
License

Related Books

The European Higher Education Area
by Adrian Curaj, Liviu Matei, Remus Pricopie, Jamil Salmi, Peter Scott
Bridging the gap between higher education research and policy making was always a challenge, but the recent calls for more evidence-based policies have opened a window of unprecedented opportunity for researchers to bring more contributions to shaping the future of the European Higher Education Area (EHEA). Encouraged by the success of the 2011 fir...

Mergers and Alliances in Higher Education
by Adrian Curaj, Luke Georghiou, Jennifer Cassingena Harper, Eva Egron-Polak
Higher education in Europe and beyond faces a series of major challenges. The economic crisis has accelerated expectations of an increased role in addressing economic and societal challenges while, at the same time, putting pressure on available finances. Broader trends such as shifting student demographics and expectations, globalisation and mobil...

Talent Development in European Higher Education
by Dr. Marca V.C. Wolfensberger
This book examines the much-debated question of how to unleash the potential of young people with promising intellectual abilities and motivation. It looks at the increasingly important topic of excellence in education, and the shift in focus towards the provision of programs to support talented students in higher education. It provides a systemati...

Higher Education Reforms in Romania
by Adrian Curaj, Ligia Deca, Eva Egron-Polak, Jamil Salmi
Romania is an active player in various international higher education areas, while undergoing a series of higher education reforms within its national framework. The Higher Education Evidence Based Policy Making: a necessary premise for progress in Romania project was implemented by the Executive Agency for Higher Education, Research, Development ...

European Higher Education Area: The Impact of Past and Future Policies
by Adrian Curaj, Ligia Deca, Remus Pricopie
Higher education has thrived in Europe for the last three decades supported by the powerful policy narratives of the European construction and knowledge society. The two together called for better-integrated societies with higher economic competitiveness, superior employment, and social cohesion. Extraordinary developments in higher education durin...