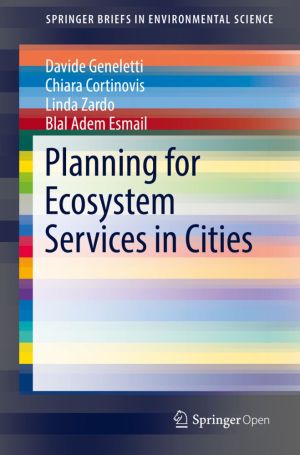 Book Description
This book presents current knowledge about ecosystem services (ES) in urban planning, and discusses various urban ES topics such as spatial distribution of urban ecosystems, population distribution, and physical infrastructure properties. The book addresses all these issues by: i) investigating to what extent ecosystem services are currently included in urban plans, and discussing what is still needed to improve planning practice; ii) illustrating how to develop ecosystem services indicators and information that can be used by urban planners to enhance plan design; iii) demonstrating the application of ES assessments to support urban planning processes through case studies; and iv) reflecting on criteria for addressing equity in urban planning through ecosystem service assessments, by exploring issues associated with the supply of, the access to and demand for ES by citizens.
Through fully worked out case studies, from policy questions, to baseline analysis and indicators, and from option comparison to proposed solutions, the book offers readers detailed and accessible coverage of outstanding issues and proposed solutions to better integrate ES in city planning. The overall purpose of the book is to provide a compact reference that can be used by researchers as a key resource offering an updated perspective and overview on the field, as well as by practitioners and planners/decision makers as a source of inspiration for their activity. Additionally, the book will be a suitable resource for both undergraduate and post-graduate courses in planning and geography. You can download Planning for Ecosystem Services in Cities ebook for free in PDF format (4.1 MB).
Book Details
Publisher
Springer
Published
2020
Pages
87
Edition
1
Language
English
ISBN13
9783030200237
ISBN10
303020023X
eISBN13
9783030200244
eISBN10
3030200248
PDF size
4.1 MB
License

Related Books

Weather & Climate Services for the Energy Industry
by Alberto Troccoli
This book showcases the burgeoning area of applied research at the intersection between weather and climate science and the energy industry. It illustrates how better communication between science and industry can help both sides. By opening a dialogue, scientists can understand the broader context for their work and the energy industry is able to ...

New Frontiers in Social Innovation Research
by Alex Nicholls, Julie Simon, Madeleine Gabriel
Interest in social innovation continues to rise, from governments setting up social innovation 'labs' to large corporations developing social innovation strategies. Yet theory lags behind practice, and this hampers our ability to understand social innovation and make the most of its potential. This collection brings together work by leading social ...

The Hindu Kush Himalaya Assessment
by Philippus Wester, Arabinda Mishra, Aditi Mukherji, Arun Bhakta Shrestha
This open access volume is the first comprehensive assessment of the Hindu Kush Himalaya (HKH) region. It comprises important scientific research on the social, economic, and environmental pillars of sustainable mountain development and will serve as a basis for evidence-based decision-making to safeguard the environment and advance people's well...

Promoting Active Citizenship
by Karl Henrik Sivesind, Jo Saglie
This book analyses the considerable variation in the shares of private provision for core services in education, health and social services, in the Scandinavian countries.The chapters compare countries, service areas, and the for-profit, non-profit and public sectors. Each focuses on different levels of change: the mix of welfare providers, nationa...

Rethinking Productivity in Software Engineering
by Caitlin Sadowski, Thomas Zimmermann
Get the most out of this foundational reference and improve the productivity of your software teams. This book collects the wisdom of the 2017 "Dagstuhl" seminar on productivity in software engineering, a meeting of community leaders, who came together with the goal of rethinking traditional definitions and measures of productivity. The ...