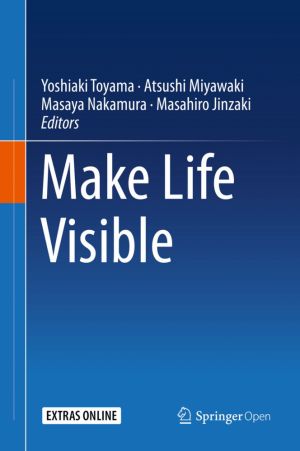 Book Description
This book describes marked advances in imaging technology that have enabled the visualization of phenomena in ways formerly believed to be completelyimpossible. These technologies have made major contributions to the elucidation of the pathology of diseases as well as to their diagnosis and therapy. The volume presents various studies from molecular imaging to clinical imaging. It also focuses on innovative, creative, advanced research that gives full play to imaging technology in the broad sense, while exploring cross-disciplinary areas in which individual research fields interact and pursuing the development of new techniques where they fuse together. The book is separated into three parts, the first of which addresses the topic of visualizing and controlling molecules for life. Th e second part is devoted to imaging of disease mechanisms, while the final part comprises studies on the application of imaging technologies to diagnosis and therapy. Th e book contains the proceedings of the 12th Uehara International Symposium 2017, "Make Life Visible" sponsored by the Uehara Memorial Foundation and held from June 12 to 14, 2017. You can download Make Life Visible ebook for free in PDF format (15.6 MB).
Book Details
Publisher
Springer
Published
2020
Pages
292
Edition
1
Language
English
ISBN13
9789811379079
ISBN10
9811379076
eISBN13
9789811379086
eISBN10
9811379084
PDF size
15.6 MB
License

Related Books

Asylum Determination in Europe
by Nick Gill, Anthony Good
Drawing on new research material from ten European countries, Asylum Determination in Europe: Ethnographic Perspectives brings together a range of detailed accounts of the legal and bureaucratic processes by which asylum claims are decided.The book includes a legal overview of European asylum determination procedures, followed by sections on the di...

Health and Wellbeing in Late Life
by Prasun Chatterjee
This book takes a multidisciplinary approach to provide a holistic understanding of late old age, and situates the aged person within the context of family, caregivers, clinical and other institutions. All through the book, the author discusses preparedness for an aging individual as well as the society in the Indian context. The book highlights in...

The Everyday Life of an Algorithm
by Daniel Neyland
This book begins with an algorithm - a set of IF...THEN rules used in the development of a new, ethical, video surveillance architecture for transport hubs. Readers are invited to follow the algorithm over three years, charting its everyday life. Questions of ethics, transparency, accountability and market value must be grasped by the algorithm in ...

Surveying Human Vulnerabilities across the Life Course
by Michel Oris, Caroline Roberts, Dominique Joye, Michèle Ernst Stähli
This book details tools and procedures for data collections of hard-to-reach, hard-to-survey populations. Inside, readers will discover first-hand insights from experts who share their successes as well as their failures in their attempts to identify and measure human vulnerabilities across the life course. Coverage first provides an introduction o...

Handbook of Life Course Health Development
by Neal Halfon, Christopher B. Forrest, Richard M. Lerner, Elaine M. Faustman
This handbook synthesizes and analyzes the growing knowledge base on life course health development (LCHD) from the prenatal period through emerging adulthood, with implications for clinical practice and public health. It presents LCHD as an innovative field with a sound theoretical framework for understanding wellness and disease from a lifespan p...