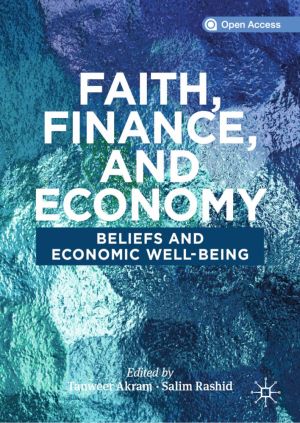 Book Description
This book seeks to foster a multidisciplinary understanding of the ties between faith, financial intermediation, and economic progress by drawing on research across economics, finance, history, philosophy, ethics, theology, public policy, law, and other disciplines. Chapters in this edited volume examine themes as consequential as economic opportunities, real world outcomes and faith; values and consumerism; faith, financial intermediation and economic development in Western and Islamic societies; and the impact of faith issues on US workers, on the workplace and religion, and on the characteristics of good wealth. Though engaging with difficult questions, this book is written in an accessible style to be enjoyed by laypeople and scholars alike. You can download Faith, Finance, and Economy ebook for free in PDF format (3.9 MB).
Book Details
Publisher
Palgrave Macmillan
Published
2020
Pages
243
Edition
1
Language
English
ISBN13
9783030387839
ISBN10
3030387836
eISBN13
9783030387846
eISBN10
3030387844
PDF size
3.9 MB
License

Related Books

Global History and New Polycentric Approaches
by Manuel Perez Garcia, Lucio De Sousa
Rethinking the ways global history is envisioned and conceptualized in diverse countries such as China, Japan, Mexico or Spain, this collections considers how global issues are connected with our local and national communities. It examines how the discipline had evolved in various historiographies, from Anglo Saxon to southern European, and its eme...

River Basin Development and Human Rights in Eastern Africa — A Policy Crossroads
by Claudia J. Carr
This book offers a devastating look at deeply flawed development processes driven by international finance, African governments and the global consulting industry. It examines major river basin development underway in the semi-arid borderlands of Ethiopia, Kenya and South Sudan and its disastrous human rights consequences for a half-million indigen...

Greening the Financial Sector
by Doris Köhn
Given the manifold challenges of financial sectors in developing and transition countries, one might be tempted to believe that embarking on "green" finance is not a priority for financial systems development. However, there are a number of arguments against this view. Environmental finance, particularly energy efficiency and renewable en...

Ester Boserup's Legacy on Sustainability
by Marina Fischer-Kowalski, Anette Reenberg, Anke Schaffartzik, Andreas Mayer
Arising from a scientific conference marking the 100th anniversary of her birth, this book honors the life and work of the social scientist and diplomat Ester Boserup, who blazed new trails in her interdisciplinary approach to development and sustainability. The contents are organized in three sections reflecting important focal points of Boserup'...

Finance for Food
by Doris Köhn
This book reflects the current state of discussion about agricultural and rural finance in developing and transition countries. It provides insight into specific themes, such as commodity value chains, farm banking, risk management in agricultural banking, structured finance, crop insurance, mobile banking, and how to increase effectiveness in rura...