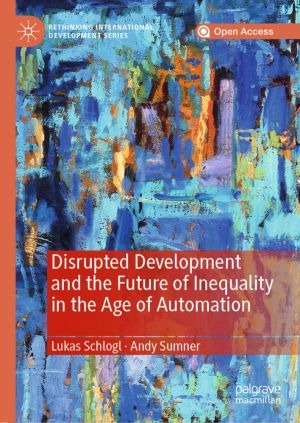 Book Description
This book examines the future of inequality, work and wages in the age of automation with a focus on developing countries. The authors argue that the rise of a global 'robot reserve army' has profound effects on labor markets and economic development, but, rather than causing mass unemployment, new technologies are more likely to lead to stagnant wages and premature deindustrialization. The book illuminates the debate on the impact of automation upon economic development, in particular issues of poverty, inequality and work. It highlights public policy responses and strategies - ranging from containment to coping mechanisms - to confront the effects of automation.

Lukas Schlogl is a political scientist in the Department of Political Science, University of Vienna, Austria.

Andy Sumner is Professor of International Development in the Department of International Development at King's College London, UK.

"A piece of cutting-edge scholarship, this book examines the relationship between robotization and deindustrialization by looking at the global dynamics of job displacement and its likely effect on economic development. Schlogl and Sumner argue convincingly that developing countries face a growing informal, precarious service sector in the age of automation." - Ray Kiely, Professor of International Politics, Queen Mary University of London, UK You can download Disrupted Development and the Future of Inequality in the Age of Automation ebook for free in PDF format (3.3 MB).
Book Details
Publisher
Palgrave Pivot
Published
2020
Pages
108
Edition
1
Language
English
ISBN13
9783030301309
ISBN10
3030301303
eISBN13
9783030301316
eISBN10
3030301311
PDF size
3.3 MB
License

Related Books

Young People's Perceptions of Europe in a Time of Change
by Bruno Losito, Gabriella Agrusti, Valeria Damiani, Wolfram Schulz
The IEA's International Civic and Citizenship Education Study (ICCS) investigates the ways in which young people are prepared to undertake their roles as citizens in a range of countries in the second decade of the 21st century. ICCS 2016 is the second cycle of a study initiated in 2009.This report from ICCS focuses on data collected in the 15 co...

Impact of Information Society Research in the Global South
by Arul Chib, Julian May, Roxana Barrantes
The second volume in the SIRCA book series investigates the impact of information society initiatives by extending the boundaries of academic research into the realm of practice. Global in scope, it includes contributions and research projects from Asia, Africa and Latin America. The international scholarly community has taken a variety of approach...

Higher Education in the Era of the Fourth Industrial Revolution
by Nancy W. Gleason
This collection examines how higher education responds to the demands of the automation economy and the fourth industrial revolution. Considering significant trends in how people are learning, coupled with the ways in which different higher education institutions and education stakeholders are implementing adaptations, it looks at new programs ...

Cohabitation and Marriage in the Americas: Geo-historical Legacies and New Trends
by Albert Esteve , Ron J. Lesthaeghe
This book presents an innovative study of the rise of unmarried cohabitation in the Americas, from Canada to Argentina. Using an extensive sample of individual census data for nearly all countries on the continent, it offers a cross-national, comparative view of this recent demographic trend and its impact on the family. The book offers a tour of t...

New Frontiers in Social Innovation Research
by Alex Nicholls, Julie Simon, Madeleine Gabriel
Interest in social innovation continues to rise, from governments setting up social innovation 'labs' to large corporations developing social innovation strategies. Yet theory lags behind practice, and this hampers our ability to understand social innovation and make the most of its potential. This collection brings together work by leading social ...