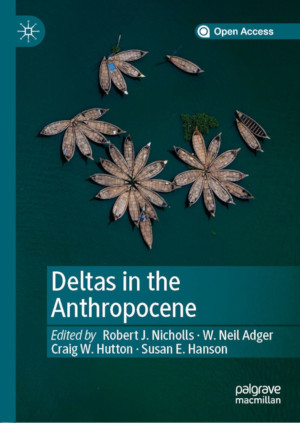 Book Description
The Anthropocene is the human-dominated modern era that has accelerated social, environmental and climate change across the world in the last few decades. This book examines the challenges the Anthropocene presents to the sustainable management of deltas, both the many threats as well as the opportunities. In the world's deltas the Anthropocene is manifest in major land use change, the damming of rivers, the engineering of coasts and the growth of some of the world's largest megacities; deltas are home to one in twelve of all people in the world. The book explores bio-physical and social dynamics and makes clear adaptation choices and trade-offs that underpin policy and governance processes, including visionary delta management plans. It details new analysis to illustrate these challenges, based on three significant and contrasting deltas: the Ganges-Brahmaputra-Meghna, Mahanadi and Volta.

This multi-disciplinary, policy-orientated volume is strongly aligned to the United Nation's Sustainable Development Goals as delta populations often experience extremes of poverty, gender and structural inequality, variable levels of health and well-being, while being vulnerable to extreme and systematic climate change.

Robert J Nicholls is Professor of Coastal Engineering within Engineering and Physical Sciences at the University of Southampton, UK. He has contributed to a wide range of influential national and international publications including the IPCC Assessment Reports.

W Neil Adger is Professor of Human Geography at the University of Exeter, UK. His research examines demographic, political economy, public health and well-being aspects of the Anthropocene.

Craig W Hutton is Professor of Sustainability Science within Geography and Environment at the University of Southampton, UK. His research focuses on spatial analysis of vulnerability and the incorporation of sustainable management, policy and governance into decision-making processes.

Susan E Hanson is Research Fellow within Engineering and Physical Sciences at the University of Southampton, UK. She specializes in coastal vulnerability and management, particularly as a consequence of climate change. You can download Deltas in the Anthropocene ebook for free in PDF format (8.5 MB).
Table of Contents
Chapter 1
Delta Challenges and Trade-Offs from the Holocene to the Anthropocene
1
Chapter 2
Ganges-Brahmaputra-Meghna Delta, Bangladesh and India: A Transnational Mega-Delta
23
Chapter 3
The Mahanadi Delta: A Rapidly Developing Delta in India
53
Chapter 4
The Volta Delta, Ghana: Challenges in an African Setting
79
Chapter 5
Fluvial Sediment Supply and Relative Sea-Level Rise
103
Chapter 6
Hotspots of Present and Future Risk Within Deltas: Hazards, Exposure and Vulnerability
127
Chapter 7
Where People Live and Move in Deltas
153
Chapter 8
Delta Economics and Sustainability
179
Chapter 9
Adapting to Change: People and Policies
201
Chapter 10
Choices: Future Trade-Offs and Plausible Pathways
223
Chapter 11
Sustainable Deltas in the Anthropocene
247
Index
281
Book Details
Publisher
Palgrave Macmillan
Published
2020
Pages
282
Edition
1
Language
English
ISBN13
9783030235161
ISBN10
3030235165
eISBN13
9783030235178
eISBN10
3030235173
PDF size
8.5 MB
License

Related Books

Aquaculture Perspective of Multi-Use Sites in the Open Ocean
by Bela H. Buck, Richard Langan
This volume addresses the potential for combining large-scale marine aquaculture of macroalgae, molluscs, crustaceans, and finfish, with offshore structures, primarily those associated with energy production, such as wind turbines and oil-drilling platforms. The volume offers a comprehensive overview and includes chapters on policy, science, engine...

Solidarity in Europe
by Christian Lahusen, Maria T. Grasso
This open access volume provides evidence-based knowledge on European solidarity and citizen responses in times of crisis. Does the crisis of European integration translate into a crisis of European solidarity, and if yes, what are the manifestations at the level of individual citizens? How strongly is solidarity rooted at the individual level, bot...

The Psychology of Silicon Valley
by Katy Cook
This book explores the conscious and unconscious norms, values, and characteristics that drive behaviors within the high-tech capital of the world, Silicon Valley, and the sector it represents. In an era where the reach and influence of a single industry has the potential to define the future of our world, it has become apparent just how little we ...

Bats in the Anthropocene: Conservation of Bats in a Changing World
by Christian C. Voigt, Tigga Kingston
This book focuses on central themes related to the conservation of bats. It details their response to land-use change and management practices, intensified urbanization and roost disturbance and loss. Increasing interactions between humans and bats as a result of hunting, disease relationships, occupation of human dwellings, and conflict over fruit...

Research Assessment in the Humanities
by Michael Ochsner, Sven E. Hug, Hans-Dieter Daniel
This book is open access, which means that you have free and unlimited access.This book analyses and discusses the recent developments for assessing research quality in the humanities and related fields in the social sciences. Research assessments in the humanities are highly controversial and the evaluation of humanities research is delicate. Whi...